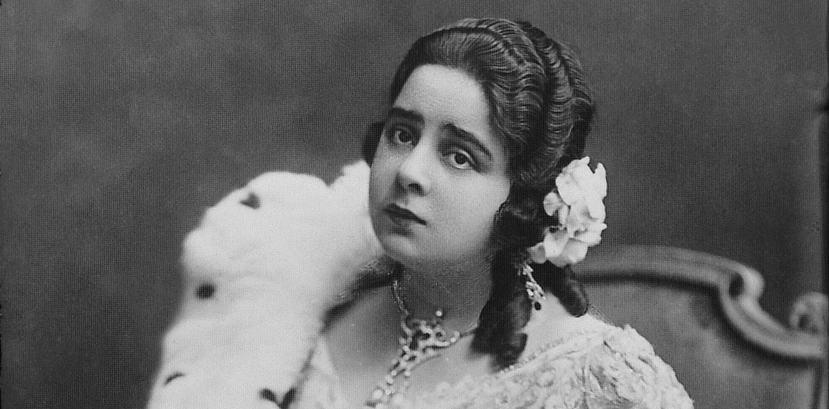 Ada Sari performed under the baton of such brilliant conductors as Ruggero Leoncavallo, Pietro Mascagni and Arturo Toscanini. On stage, she sang alongside Beniamino Gigli, Mattia Battistini, Titta Ruffo, Tito Schipa, Fyodor Shalyapin, Leonid Sobinov and Aureliano Pertile. Fritz Kreisler and Pablo Casals accompanied her performances.
To develop such a glittering career was no easy task for her, for it took a lot of conscientious work on her voice and an unfrequented route that she followed to achieve success. She started out as a dramatic soprano later to switch to a coloratura soprano which proved a world-wide phenomenon. Soon, she was compared to the greatest singers of all time. She loved music and her profession.
She gave up family life, but was not a stereotypical operatic diva.
Her simple-heartedness, friendliness and good manners invariably turned the people she met into friends.
She continued teaching in her declining years, still having an excellent command of her voice. Halina Mickiewiczówna, Vittoria Calma, Bogna Sokorska, Maria Fołtyn, Barbara Nieman, Janina Głodzińska "Stano", Zdzisława Donat, Jerzy Karolus, Urszula Trawińska-Moroz and many other outstanding figures of the Polish vocal artistry were tutored by her.
Ada Sari was the teacher who really transplanted the great Italian singing school onto the Polish ground.
ADA SARI IS NO LEGEND – her life is a golden page in the history of the Polish vocal artistry. Here are some major biographical facts of her life:
29 June 1886 – (Wadowice) born Jadwiga Schayer, daughter of Franciszka née Chybiński and Edward Schayer
until 1899 – she lived in Stary Sącz, where her father was mayor. It was there that she was tutored in singing, piano and foreign languages. She returned there after years of tutelage in Cieszyn and Cracow.
1905-1907 (Vienna) -  she learnt to sing at the private school of the Italian Countess Pizzamano. It was then that she gave her first public concerts.
1907-1909 (Milan) – she studied under Prof. Antonio Rupnick, who at first was sceptical about her vocal abilities.
1909 – she made her successful debut as Margaret in Charles Gounod's Faust at Teatro Nazionale in Rome, and adopted the artisic pseudonym of Ada Sari
1904-1923 – she performed at many opera theatres, e.g. in Milan (Teatro del Verme), Naples (Teatro San Carlo), Alexandria, Saint Petersburg, Kiev, Lvov, Cracow, Vienna and Warsaw. Her celebrity rose rapidly.
12 May 1923 – Ada Sari made her debut at the Milan Teatro alla Scala featuring as the Queen of the Night in The Magic Flute by W.A.Mozart, conducted by A.Toscanini. Since that event her worldwide fame shot up meteorically; she began to give concerts and performances around the world. The audiences and the press went into raptures over her.
5 March 1928 (New York) – Ada Sari gave a recital at the Carnegie Hall
1945-1947 (Cracow) – she taught singing at the State Higher School of Music
since 1947 (Warsaw) -  she held the Chair of Solo Singing at the State Higher School of Music, where she was nominated professor
2 July 1968 (Aleksandrów Kujawski) – Ada Sari died of a heart attack
The press on Ada Sari
"… Well, I would avoid all this if I signed a contract for 3 years. Most importantly, I would be sure that […] I sing at the first-rate Italian theatres, e.g. the one in Genoa. Thus, the autumn would bring Teatro Politeama, Teatro Rossini at Venice, later on Rome, Naples and Palermo… If truth be told I was scared stiff to start out singing in the provinces, where there are horrible relations at theatres, because impresarios are rabble and don't pay up the fees they owe the singer[…] just consider Adria-Monza, which has its own theatre and a demanding audience, whose behaviour is deplorable and contemptible, for they whistle and stamp at every minor mistake. Adria-Monza is no bigger than Sącz, that is, Stary Sącz of course, for Nowy Sącz is like Parma, where the theatre is one of the best in Italy." 
(Ada Sari's letter to her parents, March 1909)
"There are two causes of the phenomenon called Ada Sari. The first is the voice. The skilful vocal gymnastics has squeezed every drop of material beauty out of it […] It is so formed that all the air that passes through the larynx gets transformed into sound and not a single atom is released dead as aspiration […] 

Practically, it means an almost never-ending breath as well as the freedom to strengthen and weaken every tone at will. Ada Sari's scales roll as series of links, uncannily light, but at the same time massive. Her staccato passages soar up like luminous spheres of fireworks. Her cantilenas sweep broadly."
(Kurier Poznański – 1928)
"Ada Sari was a charming stage partner. Her attitude to her colleagues was totally devoid of repulsive haughtiness or conceitedness […] won wide recognition […] Her sincere and vivacious acting temperament did not only dictate her natural and psychologically founded actions, but it also enabled her to sense her partner's intentions and so combine her and his emotion into one artistic whole."
(Wiktor Brégy's Reminiscence)

"Ms Ada Sari's coloratura is impressive. With all its perfection, it does not seem to be an end, but a mere means [...] She uses her coloratura technique to achieve an aim of a more profound meaning and that's why it is of the highest artistic level."
(Kurier Warszawski – 1929)
"In essence, Ada Sari is not only a brilliant coloratura soprano, but she is also a consummate interpreter of songs. She saturates every word with feeling, for her voice is a spring of gold that has the flexibility of steel..."
(Lwów – 1932)
"Her programme displayed an exquisite artistic taste and necessitated a knowledge of as many languages as there are countries in Europe..."
(New York Telegraph – 1928)

"Miss Sari was a veritable revelation. She is reminiscent of the BEL CANTO MISTRESSES OF THE FIRST HALF OF THE 19TH CENTURY. The sound of her voice was impeccable; her staccato clear and just radiant, even in very rapid trills. This is what makes the singer the leading light in the virtuoso vocal art."
(Popolo d'Italia)
"The recital in the concert hall of Poznań conservatoire left an indelible impress in my memory [...] Since that event I have considered Karłowicz's Pamiętam ciche, jasne, złote dnie to be the most beautiful of all songs. Deeply moved by the rendition of it that day, I came to understand that the greatest instrument of all is the human voice, for it can express far more than the most elaborate orchestral piece, and that the artist's personality emanates through singing in the most direct manner..."
(Z.Latoszewski – on the occasion of Ada Sari's artistic activity)