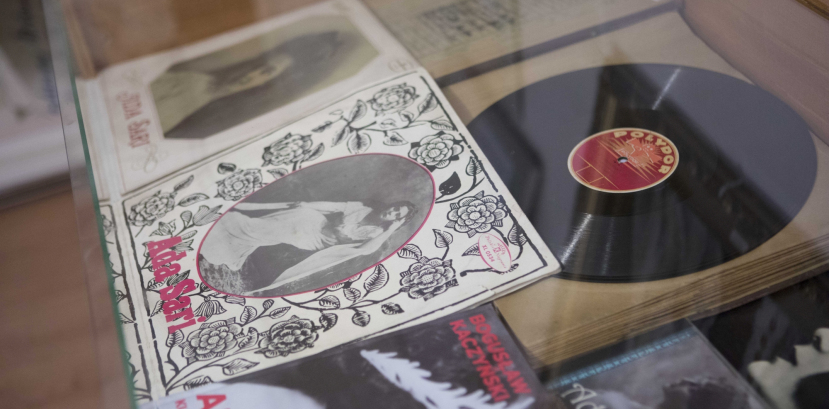 Although today, Thursday, 2 September, there were no competition auditions scheduled in the programme of the 19th Ada Sari International Vocal Artistry Competition, the building of the Małopolskie Cultural Centre SOKÓŁ in Nowy Sącz sounded with music all day long. This day is always devoted to the rehearsals of the finalists.
According to a long-standing tradition, also on this day the representatives of the jury, including the chairwoman and artistic director Małgorzata Walewska, visit Stary Sącz to lay flowers at Ada Sari's house, at the plaque commemorating the patron of the Competition. The jurors were accompanied by Andrzej Zarych, director of MCK SOKÓŁ, Liliana Olech, manager of the Competition's organisational office and director of the BWA SOKÓŁ Contemporary Art Gallery, and - on behalf of the hosts - Jacek Lelek, Mayor of Stary Sącz, and Andrzej Długosz, President of the Stary Sącz Friends' Association.
The guests also visited the Seweryn Udziela Regional Museum in Stary Sącz, where Ada Sari's salon is located. The visitors had an opportunity to see the artist's photographs and memorabilia, to watch her correspondence and her last will and testament, to look in her famous mirror, but first of all to listen to her recording: the aria Rosina "Una voce poco fa" from the first act of Rossini's opera "The Barber of Seville", which made a great impression on the audience.
Ada Sari (whose real name was Jadwiga Szayer), the patron of the Competition, who died in 1968, was connected with Stary Sącz, where her father was the mayor for many years. Her stage career, which started in 1909, led her through theatres of, among others, Rome, Milan, Neo, and the United States: Rome, Milan, Naples, St. Petersburg, Kiev, Lviv, Krakow, Vienna, Warsaw, and New York. She gained worldwide fame by singing under the direction of the greatest conductors of her time, such as Ruggero Leoncavallo, Pietro Mascagni and Arturo Toscanini. She was also an extraordinary pedagogue, bringing the Italian school of singing to Poland. Her pupils included some of the most famous Polish singers, such as Halina Mickiewiczówna, Bogusław Bogusławski, and many others: Halina Mickiewiczówna, Bogna Sokorska, Maria Fołtyn, Barbara Nieman, Zdzisława Donat and Urszula Trawińska.
Tomorrow is a big day. On Friday, 3 September, the final of the 19th Ada Sari International Vocal Artistry Competition will take place in Nowy Sącz. Thirteen singers will compete for the victory, including 11 Poles and one artist from Georgia and Ukraine.
The final will start at 6 p.m. in the Lucjan Lipiński Hall in MCK SOKÓŁ in Nowy Sącz with the participation of the audience. It will also be broadcast on the YouTube channel of the SOKÓŁ cultural centre in Nowy Sącz, the organiser of the Competition, and on the website www.adasari.pl.
You are welcome!
Agnieszka Malatyńska-Stankiewicz
Press Office of the Competition